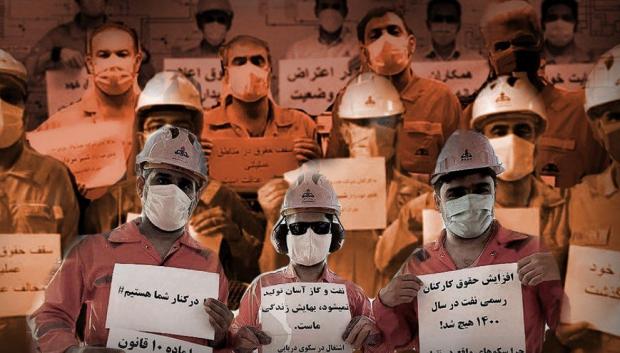 More than two weeks has passed since the general strike of project workers (i.e. without a fixed employment contract) in the oil, gas, and petrochemical industries.
 BFV: The workers' strike against the "lack of job stability" in the oil industry had already taken place on June 26, 1400(according to the Islamic calendar, 2021 according to the Gregorian calendar). A strike consisting of hundreds of male and female workers took place in important oil areas of Iran: Assaluyeh, Lavan, Bahregan, and one of the tens of total oil rigs in Bandar Abbas.
The start of the new strikes was accompanied by the dismissal of 700 workers at the Tehran Oil Refinery. The workers, who had previously staged protests and strikes over their demands and the lack of a permanent employment contract, were all fired. Although the sovereignty of the Islamic Republic and the policies of the governments based in it to maintain order in the exploitation of labor and the suppression of protests labor force and the repression of the protests again saw the "expulsion" and "threat of the workers" as the solution, the workers did not retreat. After the dismissal of these workers, 25 huge oil units joined the strikes in just one day.
The refineries and oil fields, along with the platforms and power plants inside, consisting of a population of hundreds of thousands of workers with formal contracts, without contracts and contracting. In view of the extent of the refineries, the project workers of these massive oil units have gone on strike so far:
Urmia Combined Cycle
Tehran Oil Power Plant
Isfahan Refinery 
Mehran oil field
Dehloran Refinery 
Behbahan Petrochemical
Bidboland Refinery
Cheshmeh Khosh Dehloran Gas Refinery
Jafir Refinery 
Abadan Refinery (Mahshahr Port, Tehran / South)
Gachsaran Petrochemical
Jahrom Combined Cycle Power Plant
Bunya Steel
South Adish Refinery
Kharg Oil Refinery
Qeshm Heavy Oil Refinery
Persian Gulf Star Oil Company
Jask Port And South Pars region including: (Dena Petrochemical, Pardis, Apadana, Assaluyeh, Persian Gulf, Bidkhoon, Damavand, and Fars).
What are the demands of the project workers of the oil, gas, and petrochemical refineries in the massive strikes?
 The 'absolute poverty threshold' reaches 13 million Tomans within Iran. According to the monthly inflation rates, the falling of Iranian Rial to low aside from the execution of neoliberalism policies have driven more than 65 percent of Iranian people into poverty. That is, determining the minimum wage of 2 million and 650 thousand Tomans, equals with the death of the Iranian working class. 
     The nonconformity with the 'Campaign 1400' and protesting against the devastating economic consequences has been one of the main demands of various workers, unions, women, teachers and the body of daily wage laborers and other organizations for the last 4 months. 
     Hence, the oil project workers' wishes consist of living requirements, guilds' demands, and the need for the organization as following:
1. Increasing the minimum wage up to 12 million tomans
2. Immediate payment of unpaid salaries
3. Raising the HSE level and the level of health standards in a working environment
4. Having the right of 10 days off for 20 working days
5. Returning all fired staff back to work
6. Permanence of employment contracts 
7. Repealing special laws of economic zones (which are anti-labor in nature)
8. Public access to free housing, treatment, and education
9. Having the right to assemble, strike and organize