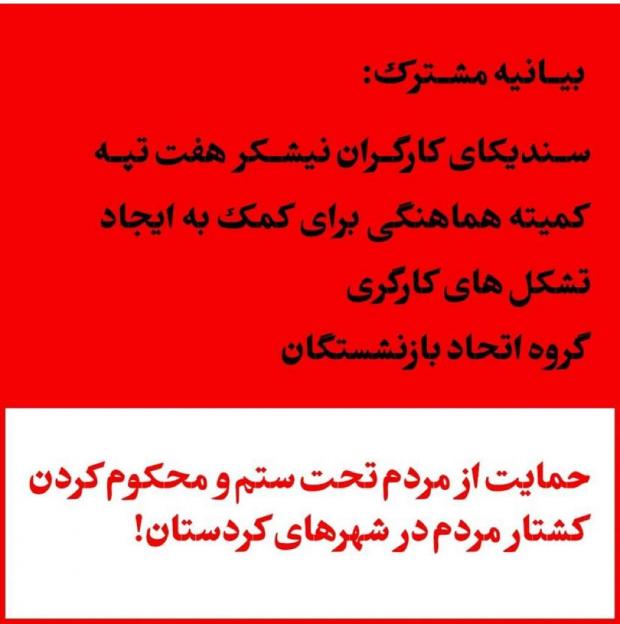 Haft Tapeh Sugarcane Workers Union
Coordinating committee to help build labor organizations
Retiree Union Group
Supporting the oppressed people and condemning the killing of people in the cities of Kurdistan!
Noble and freedom-loving people
More than seventy days have passed since the new round of nationwide uprisings in most cities of Iran.
  The widespread presence of men and women on the streets shows that the oppressed and deprived people in Iran have decided to stand up to get their demands.
Various kinds of freedom, from freedom of expression, having the right to organize in political parties, having livelihood and suitable wages for a decent and humane life to providing social welfare, canceling any hijab and compulsory covering for women and men, access to good quality and free education, having welfare insurances and access to appropriate and free health care and dozens of other unquestionable humane demands rise out of those who struggle in the streets for decades.
Unfortunately, the governments and the establishment in Iran not only do not listen to the most basic demands, but they have responded to every demand with bullets.
Governments, which present themselves as representatives of the people choose to attack them instead of responding to their will.
We have witnessed many examples of such acts, the massacre of the people of Kurdistan in 1979 , the attack on the people of the Torkman Sahra and Khuzestan and last week the brutal killing of honorable and freedom-loving people of Mahabad, Javanroud, Ashnoye, Piranshahr, Sanandaj, Kamiyaran and other cities and villages of Kurdistan.
We, the signatories, while expressing our sympathy to the victims of freedom and equality in Kurdistan and all the cities of Iran, condemn these massacres under any title and under any pretext.
Workers and toilers in Iran have no mutual interest with oppressive and corrupt governments.
Our only interest is the common interests of the collective. The workers of Kurdistan are our brothers and sisters. We have a common pain, we are workers against any kind of oppression. National oppression, gender oppression, and against exploitation.
No matter where we are in Iran, we have benefited and shared pain with our brothers and sisters in Kurdistan. We need to move together to get rid of all discriminatory relations.
We demand the immediate withdrawal of all oppressive armed forces from Kurdistan and all Kurdish cities, and we demand the unconditional release of all prisoners and arrestees. We are against rocket launching, war-mongering and creating crisis in the Kurdistan Region of Iraq. 
We honor the memory of all the dear ones who have sacrificed their dear lives in the way of freedom and equality and to reach a world without oppression and exploitation.
November 25, 2022
Haft Tapeh Sugarcane Workers Union
Coordinating committee to help build labor organizations
Retiree Union Group