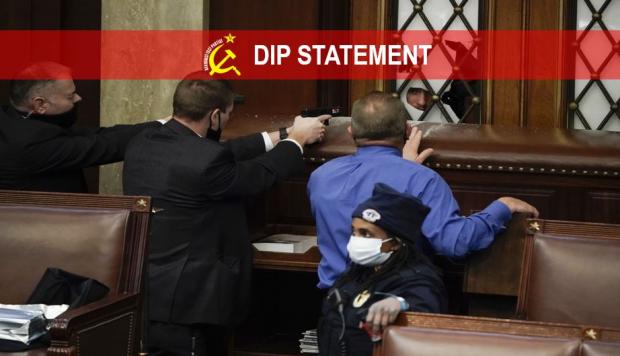 The events unfolding in the heart of world capitalism, with the much-vaunted Capitol Hill being occupied by the MAGA (Make America Great Again) fascists, is the end-product of a process that announced loudly the coming of these days. Trump asked the Proud Boys to "stand back, stand by". Now they have come forth to protect their protector, the proto-fascist Donald Trump.
We have said repeatedly that fascism cannot be fought by voting in peace when that barbaric movement is organising to dominate the street and subsequently the centres of power. From the scenes within the US Congress, a civil war of sorts is being enacted, even if one that might possibly last a single say. Those who still have not been awakened by this incident are hopeless servants of the capitalist-imperialist order that insist on delivering the people to the jaws of the fascists.
The DIP (Revolutionary Workers Party) of Turkey extends its solidarity to the people of America and calls the workers and all fighters against oppression to join hands to help the fightback against Trump and the MAGA fascists. That fightback can only be organised by the workers, African-Americans, all the oppressed of America and the youth of all races that participated heroically this summer for the Black Lives Matter rallies organising themselves, totally independently of the Democratic Party and the entire establishment!
Fight Trump and the MAGA by any means necessary!
DIP
(Revolutionary Workers Party)
06.01.2021
Turkey