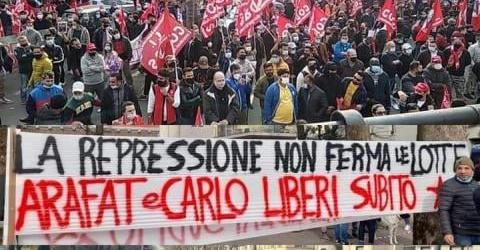 Several unionists were arrested and sent to prison in Piacenza, Italy, for nothing more than trade union activity! The regional public prosecutor considers their successful struggle to wrest from the bosses of the logistics industry additional wage raises after the official collective bargaining process was terminated as "extortion", thus criminalizing class struggle. The EEK of Greece and the DIP of Turkey sent a message of solidarity to the persecuted unionists. We publish below that message.
The EEK and the DIP condemn the provocation by the Italian capitalist State against the combative trade union movement in Italy and the arrest of the leaders of the S.I. Cobas and Usb on fabricated charges. We demand the immediate liberation of the arrested comrades and we call on the working classes of Greece and Turkey and the combative trade union movement of our countries and of Europe to act in solidarity with the Italian trade unionists under arrest.
This State attack against a vanguard section of the working-class movement in Italy is a warning for all the workers in Europe in crisis crumpling at the brink of the abyss after the NATO proxy war in Ukraine. It comes at a moment when the Draghi ``national unity" government has imploded, the fascists and the rightwing is hoping and threatening to come to power, and the economic/political crisis of over-indebted Italian capitalism is destabilizing further the entire Eurozone and European Union imperialist edifice. 
The ruling class is mobilizing State repression and the fascists against the working class to save their bankrupt system. No pasarán!
Freedom to the arrested leaders of the S.I. Cobas!
Mobilize the working class in class war against repression and against the imperialist bourgeoisie, its NATO warmongers, and fascists!
Down with the imperialist European Union, for the socialist unification of the European Continent! 
The Political Bureau of the EEK (Workers Revolutionary Party, Greece)
The Political Bureau of the DIP (Revolutionary Workers Party, Turkey)
July 21, 2022