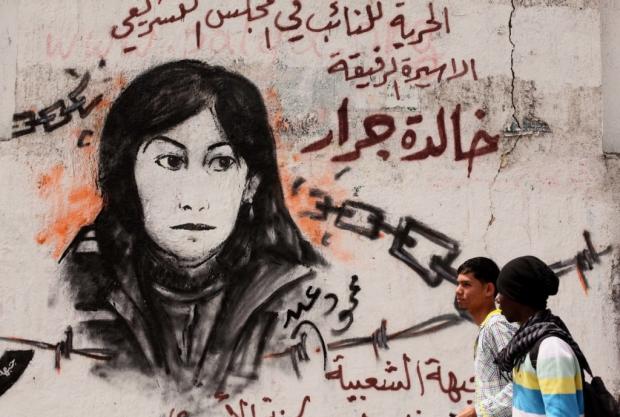 On Sunday, 2nd July 2017, the Zionist occupation forces arrested a number of Palestinian national leaders and activists in pre-dawn raids, including four leaders from al-Aroub Refugee Camp, and leaders of the Popular Front for the Liberation of Palestine, former prisoner Ihab Massoud, the Palestinian Legislative Council member Khalida Jarrar, President of Union of Palestinian Women's Committees Khitam al-Saafin. The court extended both al-Saafin and Jarrar's detentions on Wednesday, 5thof July. Then, Khitam al-Saafin received three months administrative detention order and shortly after Khalida Jarrar received sixth months.
The attacks against the Palestinian leaders cannot suppress the resistance. This is not the first attempt of the Zionist entity to intimidate the Palestinian popular movement. Zionists could not succeed, we are sure they won't! Khalida Jarrar herself was arrested before in April 2015 and after eight months of administrative detention, she was sentenced to 15 months in prison by an Israeli military court. On the contrary, these vile attacks urge us more to take action against the illegitimate Zionist entity, to do our best to support the Palestinian cause by any means necessary.
As DIP (Revolutionary Worker's Party) of Turkey, we declare our support to the people of Palestine fighting for the freedom of their land and, in particular, to the Popular Front for the Liberation of Palestine.
We strongly condemn these attacks against the Palestinian leaders and demand their immediate release! There are currently approximately 500 Palestinians held under administrative detention orders, one of the most hideous legal institutions of the supposedly democratic Israeli state, and 6.200 Palestinian prisoners in total. We express our solidarity with the heroic Palestinian prisoners. Freedom for all Palestinian prisoners!
While Saudi Arabia and its Arab allies are busying themselves with pressuring their earlier ally Qatar and while Turkey is supporting the latter in this showdown, both sides leave the hands of Israel free to attack the rightful fight of the Palestinian people. It is up to the proletarian and popular organizations of the Middle East and the wider region to take up the struggle against Zionism.
The people of Palestine are not, and never will be alone in their struggle against the illegitimate invader of their land, which is a common threat for all the peoples of the Middle East. Down with Zionism! Down with imperialism! From the river to the sea Palestine shall be free!
July 12, 2017
Revolutionary Worker's Party (DIP)
International Commission of the Central Committee
Turkey