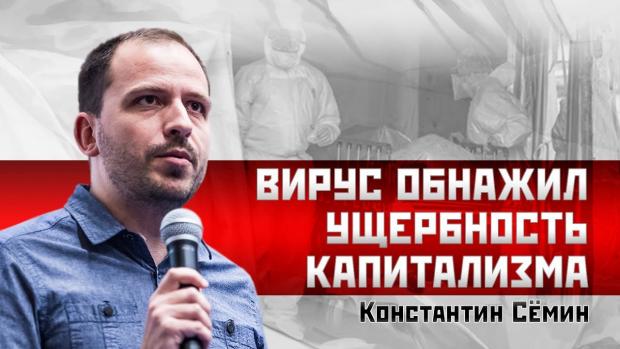 Russia, like other countries, is at the beginning of a new global economic and political crisis which is being intensified many times by the coronavirus pandemic and has already got tens of thousands of lives. Despite the growing spread of the epidemic in the country the ruling top is going to redraw the Constitution at any price.
The State Duma, the Federation Council and regional legislative assemblies approved amendments to the draft law on amendments to the Constitution of the Russian Federation, on which voting was scheduled for April 22, 2020. Judges of the Constitutional Court did not see in these amendments violations of the current Constitution of the Russian Federation, although such violations are more than sufficient, and they are obvious even for those who are not lawyers.
Among the amendments made to the voting package, there is none offered by the Left Front, other left-wing political parties and public organizations. In general, the package of amendments, which is obsessive proposed to approve, does not improve the current Constitution, but indefinitely establishes the power of the "ruling elite," gives the current President the right to be elected twice more.
Voting on the actual new Constitution was only postponed, but it was declared by the mouth of Valentina I. Matvienko, Chairman of the Federation Council, that "the topic of amendments to the Constitution will not not disappear from the public field, but will also acquire new qualities".
In order to prevent the disaster that threatens the country and its citizens, an urgent and fundamental change in the policy that has brought Russia to the very edge of the abyss is needed, a change that will ensure a way out of the crisis and a return of the country to the socialist path of development and progress.
On April 3, 2020, the Executive Committee of the Left Front posted on the website of the Left Front the anti-crisis program "A WAY OUT OF CRISIS – 'LEFT TURN' AND CHANGE OF COURSE OF THE DEVELOPMENT OF RUSSIA!". On April 8, Alexey Sakhnin's petition (also the Left Front) "Russia needs a new strategy to overcome the crisis!" was posted on change.org website: // https://www.change.org/p/граждане-россии-россии-нужна-новая-стратегия-выхода-из-кризиса?utm_content=cl_sharecopy_21392023_ru-RU%3Av5&recruiter=935497338&recruited_by_id=831c5eb0-2d57-11e9-88dd-55dc03faf25f&utm_source=share_petition&utm_medium=copylink&utm_campaign=psf_combo_share_initial
There is a program of recovery from the crisis and development of the country! It should undergo popular discussion, including on TV, with the participation of specialists (economists, demographers, historians, "technaries", etc.), representatives of all parties, including all left-wing parties and movements, and especially the Left Front, and after such discussion, which should start now, the program should be adopted in a referendum and the decision should be necessarily implemented. For this purpose, extraordinary elections of the President and all legislative bodies of the Russian Federation should be held immediately after the referendum.
April 22, 2020