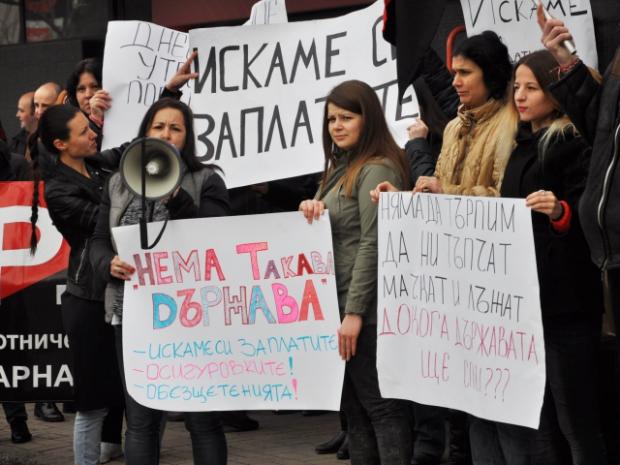 The workers of one of the largest food retailers in Bulgaria, went on wildcat strikes across the country since 20th of March that mainly took place in Sofia and Varna, after not receiving wages for over months. The company owners and high management are in hiding and refuse to make any explanation to the workers about the wage theft. In Sofia the workers alongside Autonomous Worker's Union, protested in front of the company's headquarters and in Varna they occupied the largest store in the chain and then marched to the bank in control of the company's assets. During their months long struggle the workers of Picadilly joined their forces with the workers of Max Telecom, the miners of Bobov Dol, toilers from Dupnitsa and chemical factory workers from Dimitrovgrad to organize a joint campaign. The first coordinated action of this campaign happened in 5th of September, around 150 workers from different cities marched in front of the Bulgarian Parliament in Sofia and raised their voices against the wage theft of their bosses.
Here below is an open letter that was published in the monthly newspaper of the Autonomous Worker's Union, written by a Picadilly worker:
Piccadilly staff in Bulgaria have been trying to get their salaries for months. The owner is still nowhere to be found
An Open Letter
From: a distressed and disillusioned worker
To: the Bulgarian ruling class, the European socialists' leader, leaders of the two Bulgarian biggest political parties, the social Minister of the Republic of Bulgaria and to the chairs of two other Bulgarian parties who have stated as their priority to defend the working people of this country.
Hello there! How are you? It's an awkward question, isn't it? Do you happen to know how we are doing? How we live and how we get by? I am a citizen of the Republic of Bulgaria. My name is Mergyul Redzheb Hassan. A loyal citizen who worked honestly, with sweat on her brow. A citizen who has regularly paid her taxes and social securities.
I worked for more than 12 years for the Piccadilly chain of supermarkets. I was a loyal employee until the very last minute, working for the interest of the company. The owners rewarded me by not paying me my two monthly salaries – and not only me, but all the rest still working or laid off, around 700 people.
You must have heard about us from the media. We protested, we complained, we addressed everybody in the hope for help, but in vain. Everybody seems to be working on the problem, but we haven't seen the salaries we have earned and the bills, you know, won't wait.
Answer me, please – do you feel it's normal that such things should happen in a EC member state in the XXI century? Or should we work for free?
Furthermore, at the moment dozens of employees can't even get their sick pays. The worst share is for pregnant women, who are forced into desperate conditions during such a difficult stage in their life. They are uselessly sent from the National Social Security Institute to the National Revenue Agency and back again and neither will commit themselves to pay out their maternity money. These women do not bear the blame about the fault of their employer, who not only stole their money, but won't now process the documents that are needed.
The blame here is to be put on the criminal idiocy of the institutions, which refuse to accept any responsibility to help these women or at least give them any information. Why do pregnant women have to pay for other persons' mistakes?
I hope that you will help us, so that we could find any reason to remain in this country, which is our homeland.
I hope that you who have influence and all the levers of power will do what we common people can't. We can't find out the people who stole our salaries.
Don't you consider that those who stole the money and lives of hundreds and hundreds of workers should be under arrest giving explanations, instead of planning their summer holidays, undisturbed by media and state organs? I am speaking of public figures, people in charge of one of the biggest supermarket chains in the country, namely, the owners of Select Trade and Piccadilly Ltd. It is no secret that you can help that these people be found out to take their responsibility. In this way you will help thousands of Bulgarian citizens, whom you represent. We are convinces that it is totally in your capabilities and competence to help us search these people. This is no personal relationships matter. We are talking about the fate of hundreds of people and their families in a disastrous situation. This is a social issue and we do believe that you can help without much effort, if you wish.
We are here, we are working, raising and educating our children. Please make a minimal effort so that we may not leave! Stop the impudent theft of labor!
This letter has been sent to: Boyko Borisov, Premier, Kornelia Ninova, BSP Chair, Biser Petkov, Social Minister, Sergey Stanishev, PEC Chair, Rumen Radev, President of Bulgaria, Georgi Purvanov, Tatiana Doncheva, parliamentary groups in NA, the temporary commission for unpaid salaries.