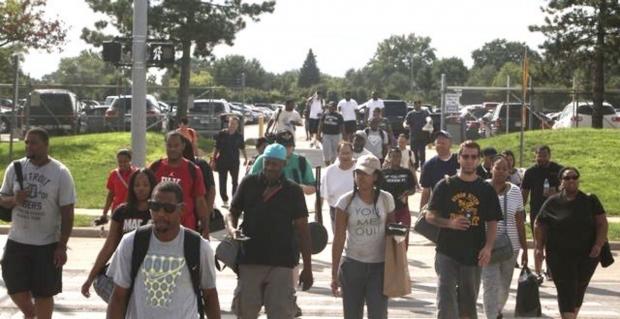 With the onset of the Covid-19 pandemic, American and Mexican working classes have faced the double horror of mass infection and layoffs. Especially auto manufacturing companies have forced their workers most bluntly and brutally to choose either to go into plants without sanitation or proper physical distancing whatsoever, or to lose their jobs. The completely bankrupt healthcare system of the US, predominantly private and working for profit and also in shatters as the result of a four-decade neoliberal onslaught, does not allow the workers to protect themselves in a situation of a pandemic or a job loss. What is more, in pains and haste to "re-open the economy", the US and Mexican governments have either remained completely silent or actively joined the bosses in sending workers back to work without proper sanitation. As Elon Musk explicitly declared his decision to reopen his Tesla plant unlawfully and threatened to leave California if the public safety law is enforced, the state of California replied that they would "make adjustments". At the same time, the leadership of United Auto Workers (UAW), one of the most long-standing unions of the US, is completely paralyzed. Having paid lip service to the Democratic Party for years and attempted to stifle all rank-and-file militancy, they cannot and will not stand up to defend their members.  
But the workers are fighting back. Musk was protested in front of the Tesla plant in California with the slogan "Jail Musk, defend the workers" on May 16th, Saturday. On May 18th, Monday, Mexican and American workers are issuing a joint statement on both sides of the border, stating that they won't go back to work and sacrifice themselves or their families for the bosses' profit. Tied to one another through a long history of immigration across the border as well as being exploited by the same multinational companies, the auto workers of Mexico and the US embody internationalist proletarian solidarity in their joint action. Below we publish this statement, significant both for fighting the capitalist drive for profits at the expense of workers' lives, which is the main scourge specific to this period, and for its internationalism, whereas capital would have liked to play the Mexican worker against the American and vice versa. (RedMed)
In the drive for profits, the US big three Ford, GM and Chrysler with the collusion of the UAW top leadership have said that they are ordering workers back to the factories on May 18th. The UAW union officials Rory Gamblel and Ray Curry even want the UAW staff tested before they return to work but refuse to fight for the same guidelines for all UAW auto workers.
Rank and file auto workers at Chrysler and other plants led walk-outs as they saw their plants contaminated and workers were being carried or walked out of the plants. They were shut down not by the UAW but rank and file action of auto workers.
GM has even retaliated against UAW 167 Bargaining Chairman Travis Watkins in Wyoming, MI.  Although the UAW International has a health and safety department, they have not been in the plants, educating the members about Covid-19 and fighting for masks and PPE to protect the lives of the workers and their families.
At the same time, OSHA in the United States has been captured by the companies. They refuse to even have physical inspections at hospitals, the meatpacking plants, agricultural farms, transit agencies and the entire transportation chain to protect frontline workers.
Trump has criminally ordered meat plant workers at Smithfield, Tyson and other plants to go back to work without requiring the companies to provide full health and safety protection so they will not get further contaminated and sickness. 
What's even more outrageous is the fact that these workers who fear dying if they continue to work at the plants, are being forced to stay because if they don't , they will be denied unemployment insurance and healthcare benefits. They are being asked to choose between death by Covid-19 and death by starvation. These bosses are criminals and they use their hired henchmen, namely the politicians to carry out the dirty work.
This is the same situation at Amazon, Wal-Mart, MTA, CTA and the UPS. Workers in North America are being treated as slaves with no worker or human rights. Chris Smalls was illegally fired because he dared to demand health and safety for workers in the NY Staten Island Amazon warehouse.  Marge Harvey, a 33 year IBT worker at UPS in St. Johnsburry, Vermont was also fired for fighting for protection against Covid-19. In Oakland, SEIU 1021 worker nurse Saber Alaoui was fired for putting up on Facebook a picture of him using plastic garbage bags because there was no PPE.
The same tactics are being used in Mexico to order workers to go back to work in contaminated factories at GM Silao, Tecate and Montomoros. The U.S. Ambassador to Mexico, Christopher Landau,  has also called for restarting work there, to coincide with the United States and Canada. "I am doing everything I can to save the supply chains that were built over the past decades," he said on Twitter in late April. "It's possible and essential to take care of workers' health without destroying these chains. The economic integration of North America demands coordination." This is the direct result of USMCA or NAFTA 2.0 supported by Trump and Obrador.
Mexican parts plant workers who even have less health and safety benefits than US workers are being ordered to go to work or starve. The state governors are supporting these back to work orders and the Obrador government has not demanded that the plants stay closed until they have proper health and safety conditions enforced by his health and safety department. These US and other multi-nationals both are demanding re-opening without protecting their own workers.
This will lead to the expansion of the epidemic and more deaths of workers and their families so the billionaires and bosses can continue to make profits. They see workers as disposable who have no value and thus are not afforded any human rights.
US, Mexican & Canadian workers must unite together to fight for full PPE and health and safety protections. We NEED union worker health and health and safety committees with the power to shutdown jobs. We need to fight the destruction of the post office, all public services and education.  No going back to work unless our jobs are safe!
We demand that these companies provide full pay so they can support our families. These companies have conspired to keep the plants and work locations open knowing that workers were being contaminated and would likely die rather than dispense with their profits, even at the cost of workers' lives. But their greed was more important than workers' lives.
Billionaire, union buster, and international bully Elon Musk who owns Tesla is starting his factory in Fremont violating the stay in shelter rule for industrial plants but California governor Newsom has no problem with this and Trump is congratulating him. He has called California fascist but his actions to cover-up worker injuries and fire union supporters are the action of a union buster and corrupt capitalist; yet California governor Gavin Newsom allows him to get away with these crimes.
The bosses and billionaires' hypocrisy knows no bounds: it is a criminal decision that will put at risk the two million workers as well as their families in Mexico who work in this productive circuit. They have announced that they will open the plants on May 17.
We need united action of all US, Canadian and Mexican workers to stop the death drive back to the contaminated factories.  
We face the same bosses and multi-multi-nationals. 
Only internationalism and working class solidarity can really defend our interests and lives. It is clear that the union bureaucrats will not protect us, we need to protect ourselves.  
We need to build organizations that we can rely on to fight for our interests. Those organizations will be built by and be run by the workers themselves.
This has been initiated by Worker Solidarity Action Network, WSAN
Please endorse this statement-
United We Stand Divided We Fall, An Injury To One Is An Injury To All!
Name
Job
City
Country