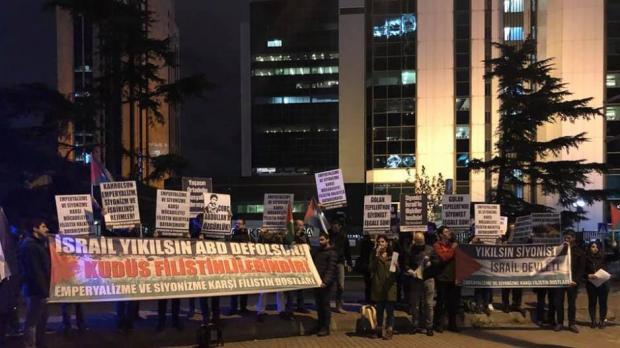 The Friends of Palestine Against Imperialism and Zionism (FPAIZ) Platform held a demonstration on November 29 in front of the Istanbul Consulate of Israel in Levent, in order to mark the International Day of Solidarity with Palestinian People.
The demonstrators gathered at the Levent metro station and then marched to the Consulate with placards, Palestine flags, and the banner read "Down with Zionist Israel state".
During the protest, Friends of Palestine chanted the slogans "Down with the Zionist Israel state", "From the river to the sea Palestine will be free!", "Down with the US imperialism!", and "Down with the European imperialism!"
Before the press release, they unfurled the banner "USA go home! Al Quds belongs to the Palestinians". Chanting slogans "the Ambassador be deported!" and "all relations be cut off!", the Platform raised the demand that Turkey sever its relations with Zionist entity.
In the press release, the Platform called the people to struggle against Zionism within the country and in the region.