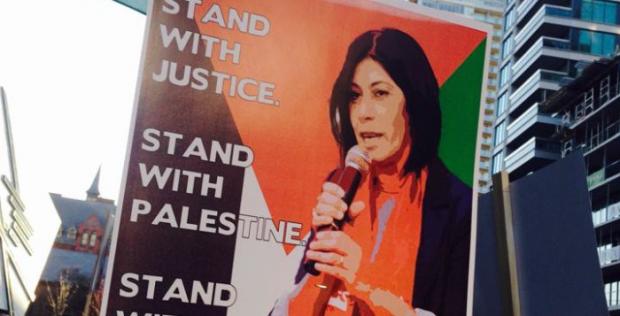 Khalida Jarrar, a socialist militant and a longtime advocate for the freedom of Palestinian prisoners, has been imprisoned by the Zionist occupier since the 2nd of July, 2017. On the 14th of June, her friends learned that her "administrative detention" (a frequently used means adopted by the Zionists from the British colonial mandate in Palestine, in order to held Palestinians imprisoned without any legal action) is renewed for the 3rd time for an additional 4 months. 
Jarrar is also the Vice-Chair of Addameer Prisoner Support and Human Rights Association and its former Executive Director, and a member of the Palestinian Legislative Council elected as part of the leftist Abu Ali Mustafa Bloc, associated with the Popular Front for the Liberation of Palestine (PFLP). She also chairs the PLC's Prisoners Committee. This is not the first time she has faced arrest and persecution. In 2014, she defeated an Israeli attempt to forcibly displace her from her family home in el-Bireh to Jericho. Only nine months later, in April 2015, she was seized by Israeli occupation forces and ordered to administrative detention, imprisonment without charge or trial.
The last renewal will be approved by the so-called Israeli military court on the 2nd of July, and Samidoun calls for action and international solidarity in order to prevent it.
For the declaration of Samidoun, which includes the possible alternative actions to be taken, visit Samidoun's web site:
http://samidoun.net/2018/06/take-action-to-free-khalida-jarrar-june-30-july-2-organize-for-freedom/ 
We strongly call our followers to support Jarrar's struggle. 
Down with the Zionist Israel!
Down with the imperialism!



Free Khalida Jarrar!