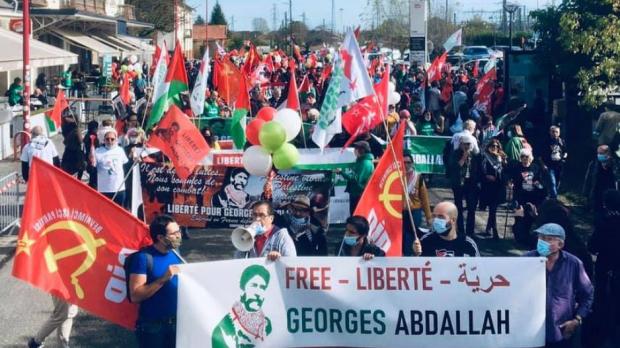 The Lebanese communist fighter of the Palestinian resistance has been held captive by imperialism for 37 years. Comrade Georges Abdallah, who has been on the front lines of the anti-Zionist struggle as a member of the Popular Front for the Liberation of Palestine and the Armed Revolutionary Groups of Lebanon, was captured in a joint operation of the French imperialists in coordination with the Zionist state. Since then, world imperialism has been targeting this warrior of internationalism.  Although, according to French legislation, his prison time could have ended in 1999, comrade Abdallah is still held in the dungeons of French imperialism for showing no signs of regret. Some recently leaked documents from 2013 reveal that Hillary Clinton, the Secretary of State of the US at the time, had advised the French government via email to devise a way to keep Georges Abdallah captive.
This last sentence reveals the essence of the significance of Georges Abdallah for the communists of the Middle East. A communist who served an additional 22 years in jail without a single complaint for not stepping back from defending the revolutionary cause and dedicating himself to the anti-imperialist and anti-Zionist struggle. A Middle Eastern revolutionary warrior against whom the American and French imperialisms as well as the Zionist state have constituted a united front. Is there greater honor, a greater award possible for a revolutionary?  
Georges Abdallah is not just a prisoner, and defending him cannot be reduced to a mere human rights issue. The case of Georges Abdallah has become a banner against which imperialism, Zionism, and all regional reactionary governments have set themselves, and behind which all the progressive forces of the entire world and primarily that of the Middle East have gathered. As a revolutionary Marxist party of the Middle East, the Revolutionary Workers' Party (DIP) holds this banner tight. We shall definitely raise and wave the banner that Georges Abdallah symbolizes over the commanding heights of a Middle East liberated from all imperialist, and primarily American, military bases, a Middle East cured from the cancer of Zionism, a Middle East freed from reactionary and collaborationist governments – that is to say, in its highest form of expression, the Socialist Federation of the Middle East. Until then, we shall not refrain from demanding freedom for Georges Abdallah and his return to his home country Lebanon according to his own will.
Georges Abdallah's struggle is our struggle. His enemies are our enemies.
Free Georges Abdallah now!
Revolutionary Workers' Party (DIP)
Turkey
Istanbul, September 2021
Adopted unanimously at the 6th Congress of the DIP (Revolutionary Workers Party) of Turkey in September 2021