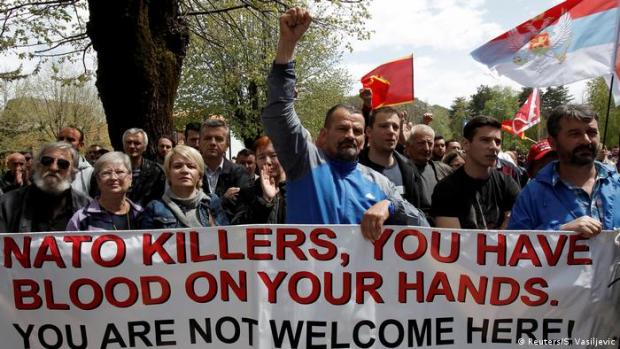 The Emergency International Anti-War Conference organised by the International Socialist Center Christian Rakovsky and the web network RedMed is opening on Saturday, 25 June and will go on over the weekend of 25-26 June. This is an online conference that brings together parties, organisations and individual fighters from two-dozen countries, with more than 45 speakers from Europe, the Middle East, North and South America, Africa and Australasia.
Below is the tentative programme of the conference. As the number of participants is rising by the day, there will in all probability be new names to be added to the list of speakers. We will publish an updated version once again before the conference.
Conference Program
(All times are Moscow-Istanbul-Athens time.)
25 June Saturday
Opening:Internationale
Session I: (14:00-18:45 with two 15 minute breaks)
Time given:15 min for each speaker, main report 20 min
Moderator:Sungur Savran (Chairman, DIP, Turkey)
Speaker, Political Affiliation, Country
1) Main Report: Savas Mihail-Matsas (Secretary General, EEK, Greece), on behalf of Rakovsky
2) Levent Dölek (Deputy Chairman, DIP, Turkey), on behalf of RedMed
3) Alexey Albu (Borotba, Ukraine)
4) Yuri Shakhin (Against the Current, Ukraine)
5) Daria Mitina (Deputy Secretary General in charge of International Relations, OKP, Russia)
6) Evgeni Kozlov (Secretary General, RPK, Russia)
7) Iosif Abramson (Central Committee, RPK, Russia)
8) Mikhail B. Konashev (Ass.SU, Russia)
9) Artem Kirpichenok (Historian, Russia)
10) Said Gafourov (Russia)
11) Vadim Vinnik (Marxist Circle, Belarus)
12) Tamás Krausz (journal Eszmélet, Hungary)
13) Annamaria Artner (Eszmélet, Hungary)
14) Ewa Groszewska (Poland)
15) Daniela Penkova- Iliyan Stanchev (Bulgaria)
16) Revolutionary Marxists of Azerbaijan, Azerbaijan
17) Ali Rakhimov (Uzbekistan)
Session II: Voices from Latin America
19:00-21:00
Time given:15 min each
Moderators: Armagan Tulunay / Daria Mitina
Speaker, Political Affiliation, Country
1) Osvaldo Coggiola (Brazil/Argentina)
2) Angelica Lovatto (Centralidade de Trabalho, PSOL, Brazil)
3) Frank Garcia Hernández (comunistas.org, Cuba)
4) José Capitan (Opción Obrera, Venezuela)
5) Marcelo Novello (Argentina)
6) Edgar Azevedo (Brazil)
7) Italo Aquino (Brazil)
8) Andre Rossi (Brazil)
Closing session of first day: Organisers
21:00-21:15
26 June Sunday
Session III: Voices from Europe, United States, Britain, Australia
14:00-16:30
Moderator:Savas Mihail-Matsas & Iosif Abramson
Time given:10 min. Each
Speaker, Political Affiliation, Country
1) Dimtiris Mizaras (MTL, Finland)
2) Guy Hesser, ROR, France
3) Alessandra Ciattini (Collettivo La città futura e Unigramsci, Italy)
4) Antonio Marcó (Red Roja, Barcelona (Spanish State))
5) Gian Franco Camboni (Sardegna Rossa, Sardinia)
6) Pavlos Antonopoulos (NAR, Greece)
7) Christos Nomidis (OKDE-Spartakos, Greece)
8) Alex Mitchell & Judith White (Australia)
9) Davey Heller (Class Conscious, Australia)
10) Bethany (USA)
11) Hans-Peter Breitman (Bolshevik Tendency, Britain)
Session IV: Voices from Africa and the Middle East
16:45-18:00
Moderators:Ernesto Sagel & Iosif Abramson
Time given: 10 min. Each
Speaker, Political Affiliation, Country
1) Latief Parker & Godfrey (Unity, South Africa)
2) Abdallah Abdallah (Secours Rouge Arabe, Lebanon)
3) Hakan Öztürk (EHP, Turkey) &
4) Jülide Yazıcı (Teori ve Politika, Turkey)
5) Behzad E. Sheikholeslami
6) Mehrdad Khameneh (Iran) (5 min each)
7) Friends of Palestine Against Imperialism and Zionism Platform (Turkey) (5 min)
8) Devrimci Marksizm/Revolutionary Marxism (Turkey) (5 min)
Session V: Forum: What is to be done?
18:15-20:00
Moderators:(Savas Mihail-Matsas & Daria Mitina)
Closing session: Organisers
20:00-20:30
Internationale