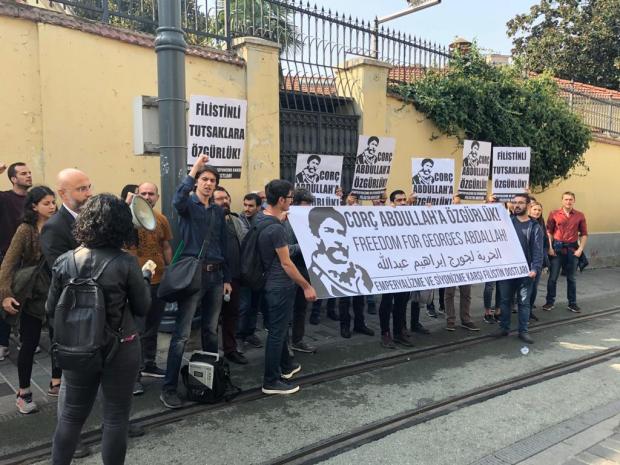 The Friends of Palestine Against Imperialism and Zionism (FPAIZ) held a demonstration in front of the French Consulate General in Istanbul, and demanded the immediate release of Georges Ibrahim Abdallah, a Lebanese revolutionary and a brave friend of Palestinians.
He was arrested by France in 1984, and afterwards accused for being a member of the Lebanese Armed Revolutionary Factions, an organization that ensured the imperialist powers backing the Israeli occupation of Lebanon in 1982, pay a price for their share in the atrocities that the peoples of the region faced. According to the law, Abdallah could be liberated after 14 years, but the USA and the illegitimate state of Israel demanded the opposite from France. As a result, France, the "État de droit" of Europe, maintained Abdallah's captivity until today. He is the oldest political prisoner in Europe and his captivity reached its 35th year.
The demonstration was held on 19th of October. Protesters gathered in front of the consulate building near the Taksim Square. 
After a brief introduction and chanting the slogans, FPAIZ supporters read the press release which gave some information about Abdallah's struggle and his captivity in French prisons. The text also underlined the fact that his captivity is not to the benefit of anyone but a handful of imperialist and Zionist parasites, and his freedom will be to the benefit of all the exploited and oppressed masses around the world, be it in the Middle East, Europe or any other place on earth, and this very truth must be the reason for his freedom. The demonstration ended with slogans demanding Abdallah's freedom.