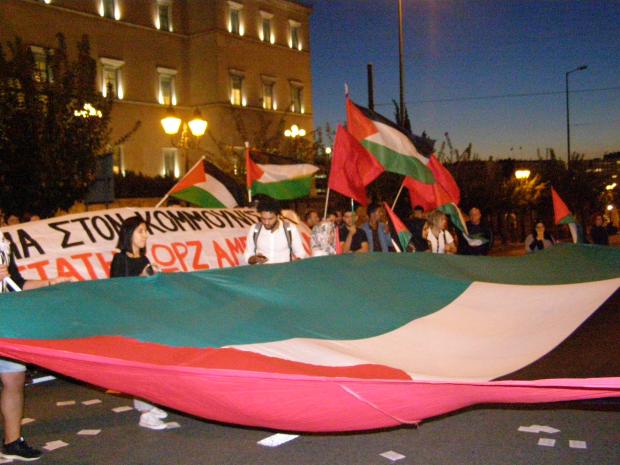 A demonstration took place in Athens on Thursday night, October 24th, for the liberation of Georges Ibrahim Abdallah. Over 100 comrades participated in the demonstration in front of the French embassy in Athens.
Georges Ibrahim Abdallah has been held in the French prisons since 1984, for 35 years -he is the most long-held political prisoner in the world. His crime is that he has joined the struggle for the liberation of Palestine, he is a communist and he struggled and keeps struggling against imperialism, Zionism and the Arab bourgeoisies.
The Initiative of Solidarity to the Palestine people where EEK is participating along with other collectivities of the extreme left-wing and anarcho-commumism, condemned the French imperialist state, shouted slogans for Abdallah's liberation, and freedom for Palestine. An announcement of the Initiative was read out loud in the demonstration.
The police has initially tried to restrict the demonstration from taking place in front of the embassy and the demonstration has finally taken place in a space diagonally in front of the embassy, when the space in front of the embassy was blocked by police wagons.
Hands off Rojava
At the same place, between the French embassy and the Greek Parliament many Kurds have arrived to demonstrate in front of the Turkish embassy which is located nearby. From a point on everyone together shouted slogans for Abdallah's liberation, against imperialism, Turkism militarism and for the liberation of Rojava and the rights of the Kurdish people.
Chile
In the meantime, another group of people arrived consisted mainly of women from Chile, who demonstrated against the barbaric and dictatorial measures of repression imposed by the right-wing government of Pinera against the revolted people of Chile.
Workers demonstration
At the same time and in a 200 metres distance, in front of the Parliament a big workers demonstration of thousands of people took place organized by the trade unions and the left-wing organisations against the new legislation of the right-wing neoliberal Mitsotakis government restricting the right of the workers to trade-unionism and strike action.